Sunrooms have become a high priority in both new builds and home renovations.  Dietrich Homes has been fortunate to work on projects that have challenged our design and building skills. We've gained insight on what others should think about in making these light-filled rooms a reality.  As ND/MN residents, let's face it, after a long winter we've earned ourselves a little extra time in the sun, and the sunroom allows us to do just that.
The first sunroom is said to have arrived in the 17th century when materials such as large panes of glass and steel were more affordable and readily available. Sunrooms can embrace several styles and they may use many different types of materials but one thing has not changed from the design of that first sunroom: They are designed to create an inside-space with all the outdoor feels (cue the cute dog meme enjoying the outdoors just as much as we do in a proper sunroom).
Designed and built for 3-season or year-round enjoyment, sunrooms capitalize on your home's yard and garden space and make the most of the outdoors. Filled with windows, a sunroom is bathed in natural light and provides an airy escape free from mosquitoes and other pests, and is bound to be a cheerful space that will become a favorite spot in your home.
Sunrooms also add visual interest to the exterior of your home. Consider using a different siding material to set it apart from the rest of your home. Shakes or vertical siding are great options that keep your new space from looking like an "add-on."
If you're considering adding on a sunroom, keep these questions in mind: 
How are you going to use your sunroom? 
Is this a reading nook, a place for family games, social space or additional dining area? 
How many people do you plan to entertain here? 
Keep in mind the amount of seating you will comfortably need to have to properly host your guests. 
Do you intend to use the space year-round? 
If so, consider installing a heated floor and/or fireplace to the space.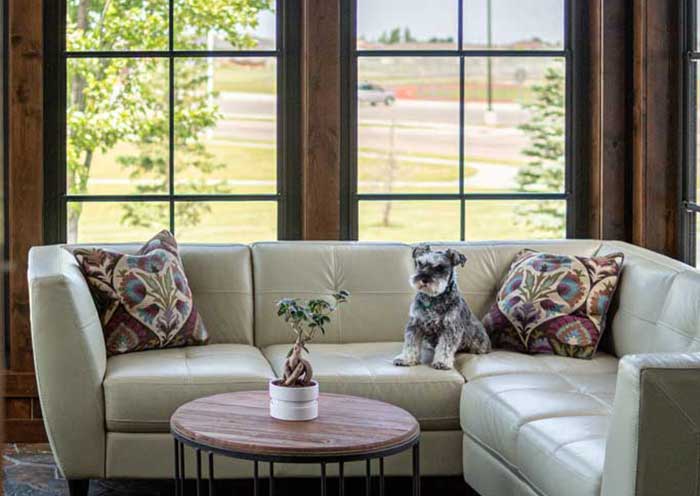 COMPLIMENTING COLORS
This room is your escape from home while staying in your home!  Make your sunroom an extension of your space by selecting a color palette that compliments your decor while offering a completely different feel.  
When it comes to colors there are a lot to choose from, so we turn to our Interior Designer, Heather Sagvold, for her expertise. "These wall colors are sure to bring a relaxing vibe to the space" says Heather.
BOLD COLORS
You can also make an impact in this room. "For a more vibrant and bold wall color these colors will continue to shine in a bright sun soaked environment" adds Heather.
FURNISHINGS
Although this space is meant to feel as though you're outdoors, it's important to remember the benefits of the interior space (and protection) you have.  We recommend reserving furniture made from wicker and wovens to outdoor spaces and spend time thinking about comfortable interior pieces for your sunroom. 
Consider upholstered furniture in soft fabrics, velvets, or even leather. Take advantage of the protection from Mother Nature's elements your sunroom will give you!
FLOORING
Traditionally sunrooms highlight a hard-surface flooring like concrete, brick, wood, or tile.  These hard-surfaces are easy to clean and help mimic the outdoor space you're attempting to create.  Consider area rugs for your sunroom. They will add texture, help designate spaces, and assist in creating soundproofing for those intimate conversations that leap deep into the nights.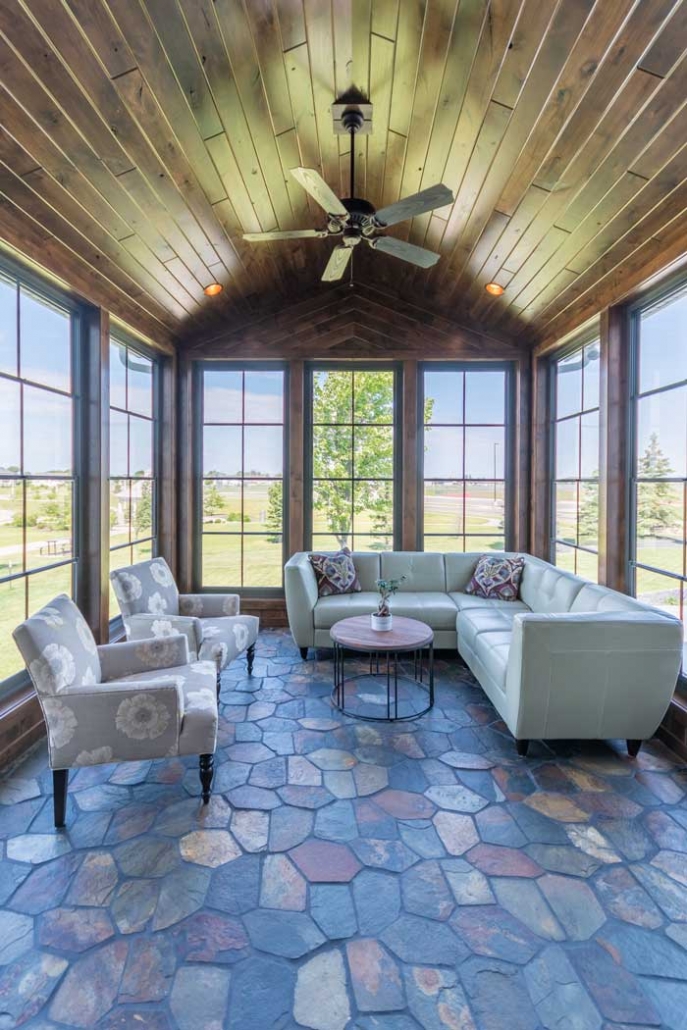 PLANTS
Plants thrive in sunrooms!  Not only do they also naturally filter the air but they truly bring the outdoors in, too.  Popular plants for sunrooms include: Boston fern, spider plant, peace lily, fiddle-leaf fig, philodendron, dieffenbachia, codiaeum and dracaena – we promise these are easier to grow than they are to pronounce. Enjoy!
Want more? Sign up for our style guides, design tips, and photos of our home remodel and construction projects.